Jam Guitars are proudly handcrafted in the USA. Available now!
BROTHER DOWN SOUND
in Russellville, Arkansas
CHICAGO MUSIC STORE
in Tucson!
110 S. Commerce Ave, Russellville, AR
5646 Speedway Blvd,
Ph: (520) 886-1516
MIKE CAREY MUSIC Co.
in Wyandotte, Michigan
1673 Fort Street, Ph: (734)283-4550
---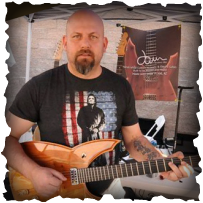 What is "Jam Guitars" about? Founder, James Sanscrainte is a Luthier trained and educated in the art of luthiery at the Roberto-Venn School of Luthiery in Phoenix, Arizona. He is a music lover, guitar player and a craftsman. He spent three years in the automotive industry building proto-type vehicles that were featured in the Detroit and New York automotive expositions. He then spent twenty one years in the United States Air Force; he has a hand for craftsmanship and a mind for detail.

James favorite quote "Music is an important part of being a human; it takes humans to keep that cycle alive and keep making music" -Bone Pony

"I grew up in a family of musicians, starting with my mother...primarily guitar players and singers. I channel that passion and history into every instrument I build. My father was an early wood model maker in the automotive industry. He performed the tasks that are now done by CnC machines, except by hand. He instilled a passion for work done by the hand in me that has , in large part, led me to the profession of Luthiery. I handcraft each guitar from start to finish, and use only the the highest quality, specifically selected materials".
​
Every Jam Guitars instrument is musician quality and meant to allow the musician to discover their sound. Premium woods and hardware, superior geometry and playability coupled with top of the line electronics ensure that these instruments won't get in the way of you expressing your creativity and finding magical tone.

I have several designs of electric (Shark, Bell, Roadster, Cigar box, Tele, and Strat) and acoustic (Dreadnaught, OM, Folk [which is a modified take on a 1957 J-45] and Custom Parlor) guitars that I build and I am always continuing my education in luthiery and developing new designs. I am open to building completely one-off instruments that incorporate the customers own creative ideas.


Each guitar is also warrented against defects in craftsmanship or materials for the life of the instrument. This means that every Jam Guitar will play and sound to the owners expectations; and I will make any adjustments and/or changes that are necessary for the customers satisfaction.

Features that make a difference: Hand carved necks, semi-hollow and hollow bodies, alternate sustainable woods and reclaimed woods, custom scale lengths and pickup configurations and wiring, two way truss rods, top of the line hardware and tuners and custom colors and stains.

Jam Guitars takes custom orders and also has prebuilt acoustic and electric guitars available. If you desire, I will design and handcraft a guitar with you and for you!
---
---
Picture Gallery

Click on the pictures for full, high resolution view


---
---
All Jam Guitars USA guitars sold by authorized dealers are warranted by the Jam Guitars company to be free from defects in material or workmanship under use and service period of fifteen (15) years on parts and five (5) years on labor from the original date of purchase, to the original purchaser. The warranty may (at the discretion of Jam Guitars USA) be transferred to subsequent owners at no cost only after an inspection of the instrument by Jam Guitars USA and approval of Jam Guitars USA.

Any products found to be defective within the applicable period will be replaced or repaired at the option of Jam Guitars USA, without any charge provided that: (1) the Product was not misused, abused, improperly maintained by any person not authorized by the Jam Guitars USA company; (2) if failure resulted from a defect in material or workmanship and was not damaged due to it use other than its intended use; (3) the product was not used abnormally, excessively, or in unusual operating conditions and (4) the product is promptly delivered prepaid to the seller at the place of purchase or to an authorized Jam Guitars USA warranty service center with proof of purchase within the applicable period.